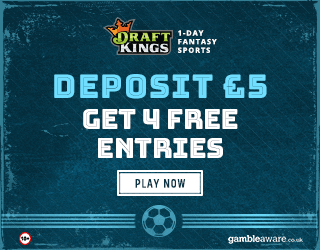 To welcome it back, DraftKings is offering 1-day fantasy football contests throughout the weekend including Saturday's EPL £20,000 Golazo contest, which has a first prize of £4,000. As an added bonus, you also get four free contest entries with your first £5 deposit. Play Now
There are plenty of intriguing clashes taking place this Saturday, none more so than the London derby down between West Ham and Watford. Both sides will be disappointed with their respective starts to the season yet there is one player that has been impressing at this early stage by scoring DraftKings Fantasy Premier League points aplenty: Michail Antonio.
Antonio, who now has an England call-up to his name, is already up there at the top of the scoring charts this season after scoring a pair of headers (each worth +10 points). Those headers came in consecutive games, the late winner against Bournemouth ensuring a winning start at their new stadium. With Dimitri Payet expected to return this week, a third header in a row feels like it's just around the corner. That isn't all you get with Antonio though. The Englishman added four crosses (worth +0.75pts each) in both games and even fired off three shots (+1pt each) in the Bournemouth game.
This weekend, get Antonio in your DraftKings fantasy football line-up to stake a claim for the $5,000 top prize on offer in the EPL $28K Golazo contest. That's not all. DraftKings, the world's leading fantasy sports platform, is offering an exclusive welcome offer that turns your first £5 deposit into four entries. There are also hundreds of other fantasy football contests taking place across the weekend.
To win, register for an account HERE, select a contest and pick an 8-man line-up (1 goalie, 2 defenders, 2 midfielder, 2 forwards and 1 utility player).
Come 3pm on Saturday, watch your team score points as the games are played and that evening you can find out whether you have won within minutes.